A little Bala Heritage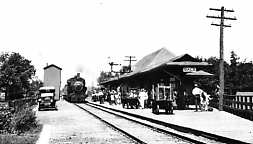 Bala is a fantastic town! It's been here since 1868! From its founding by the first homesteader, Thomas Burgess, who said that the area reminded him of Bala, Wales, the town has kept changing. Just 40 years after its humble beginnings, Bala was a fully incorporated town with a growing population of 300. So promising was the area that at the turn of the century, there was even a steam ship called the 'City of Bala'.
By 1906 the railroads had been pushed through the area and for much of the first half of the century, trains and steam ships connected at Bala's Government Wharf making the town into a summer passenger terminal. Vacationers from all over southern Ontario converged on Bala to meet ships such as the R.M.S. Segwun, Cherokee, and Islander.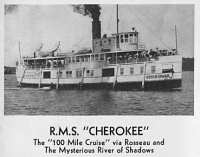 These lake steamers, and there were many, transported visitors to cottages and resorts all over Lakes Muskoka, Joseph, and Rosseau. When better roads made automobile access to all parts of the area easier, the passenger train and steamship connection died off, however the number of people vacationing in the area grew even greater! Bala, and all of Muskoka became known all over southern Ontario as 'Cottage Country', a name that is as true today as it was fifty years ago.
Early in the 20th century the Summer Station in Bala, was a hub of tourist activity as trains and steamers connected at the government wharf.
Sadly, the Summer Station, which was located across from the Post Office, has long since disappeared.
Music, a part of Bala's History
In 1942 a major change took place in Bala when Gerry Dunn, built his famous Dunn's Pavilion! Suddenly big band sounds were blasting the 'sweetest music, this side of heaven,' out across Bala Bay as living legends like the Glen Miller Band, the Dorsey Brothers, Guy Lombardo and his Royal Canadians, Les Brown and his Band of Renown, Louis Armstrong, the Inkspots, and Chubby Checker, (just to name a few), came regularly to perform. In 1968 the new owner of Dunn's, Ray Cockburn, wanted to create a new image for the place. Someone suggested naming it 'The Kee', a name that stuck, and ever since it's made the area synonymous with rock and roll especially on Saturday nights when the whole town jumps with the sounds of Blue Rodeo, David Wilcox, Kim Mitchell, Michelle Wright and Ashley MacIssac. For whole generations of fans who loved seeing their music idols, up close, the way to spell 'music' was B-A-L-A! » visit The Key @ www.thekee.com
BALA'S MUSEUM
'Anne of Green Gables' fans will want to visit the Lucy Maud Montgomery display at Bala's Museum, which was once a boarding house where Lucy Maud Montgomery actually vacationed, right in the centre of Bala! The curators, Jack Hutton, and Linda Jackson-Hutton have worked hard to develop the site into a first-class 'Anne' shrine in Upper Canada and its one which has become incredibly popular with countless Japanese tourists. After the war, in and effort by Japan to teach everyone to speak and read English, Anne of Green Gables became one of the more popular works in the curriculum. Not surprisingly, Bala's Museum has become a Mecca for many Japanese visitors to Canada. » visit Bala's Museum @ www.bala.net/museum/
CHURCHES
There are numerous churches in the Bala area, each offering summer programs, including Bazaars, Yard Sales, Barbecues, Special Suppers, Monday night Travelogues, Vacation Bible Schools, and of course, Sunday morning worship services. Churches in the area include Presbyterian, Anglican, United Church of Canada, Congregational, Bible Based Gospel, Roman Catholic, and Baptist. One even offers Christmas in July, and in December visitors to the town can take in the Trek to Bethlehem, a full-fledged Christmas pageant acted out on the streets of Bala, on the first Saturday in December every year
NATURE TRAILS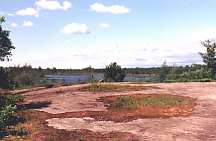 If you love to get away from it all, you can meditate in the open by visiting the hiking trail at the Torrance Barrens, just south of Bala and 7 km in on Muskoka Rd 13. It was developed by the Muskoka Lakes Township Recreational Trails Committee with a lot of help from some local businesses, private volunteers, the Township of Muskoka Lakes Ratepayers' Association and Glen Orchard School. A second area available to the outdoor enthusiasts is Hardy Lake Provincial Park, still an undeveloped wilderness set aside for future use as a developed provincial park, just 10 km. south of Bala and right on Muskoka 169, (formerly Hwy 169). It offers raw hiking trails with all sorts of rare flora and fauna. Motorized boating is not allowed on Hardy Lake.
BALA, CRANBERRY CAPITAL OF ONTARIO
Did you know that the Bala area is home to two of the major cranberry growing areas in Canada? There are two cranberry bogs in the area: Johnston's Cranberry Marsh on Medora Lake Road, just north of Bala and the Iroquois Cranberry Marsh, on Hwy 69 north of Muskoka Road 38. You can take tours of either location and just so you can learn all about the little berry and have a great time doing it, every year the folks in Bala hold The Bala Cranberry Festival - Always the Weekend After Canadian Thanksgiving!. This has become a major event offering marsh tours, midway rides, helicopter rides, an arts and craft show, fine art show, street vendors and entertainers, and wall to wall food! This Muskoka fair is on everybody's calendar from Manitoba to Minnesota, from Quebec to upper New York State and all points in between. Place it on your calendar too! And this year… We'll see you at the fair!